Do you LOVE sewing? Create this quick and fun heart using the paper piecing sewing technique! Not sure how to paper piece? There's a video tutorial showing how below. Once you've mastered the art of paper piecing, create this little wall hanging by creating 3 squares and joining them together.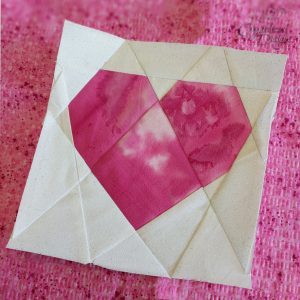 ⇢Pin it here!
Below you can find written directions and a video tutorial on how to create the 6″ heart block. Check out how to turn 3 blocks into a wall hanging below all instructions. Looking for more paper piecing patterns? Check out the Ball of Yarn Paper Piecing Pattern here. Happy Sewing!
Love video tutorials? Subscribe to the Crystalized Designs YouTube Channel!
Helpful tools for this pattern:
Thank you for visiting, I hope you enjoyed the pattern! Please leave a comment below and again, I would love to see any pictures! Though mainly crochet, find me on Facebook, in my Facebook Group, or Instagram! I'd love for you to share on Pinterest! I'd be happy to follow you back on any social media, just leave a link below! Want to see something from Crystalized Designs? I'm interested to hear! Feel free to email me with any suggestions. And as always, if you have any questions about a pattern, don't hesitate to contact me. Email is the best way to reach me. Email me at [email protected]
Posts may contain affiliate links. At no additional cost to you, I may earn a small commission if you click and purchase items through these links, which enables Crystalized Design to bring you even more free patterns!