I loved taking part in my second A Crocheted Simplicity's Mini-Mystery Crochet Along! If you didn't get to join, I'd highly recommend you watch for any new MMCALs as it was so much fun! I loves seeing all the projects people made. For this MMCAL, whether its sunglasses or glasses, protect them with this quick project! This is perfect for stash busting, craft fairs and gifts!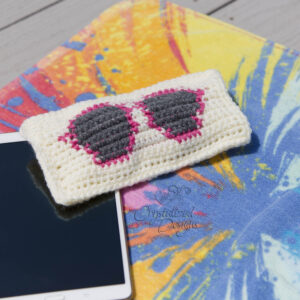 ⇢Want an ad-free pattern? Find the pattern for a small fee:
⇢Pin it here!
To download graph, click here.
---
The MMCAL
Hello, crochet friends!! I'm so excited to take part in my SECOND A Crocheted Simplicitys' MMCAL!! For those of you who may not know, it's a mini-mystery crochet-a-long! I've loved seeing her previous MMCALs and the outcome of the projects without knowing what exactly is being made. You can find my first MMCAL project here. I'm also very excited to show you mine and see all of your projects!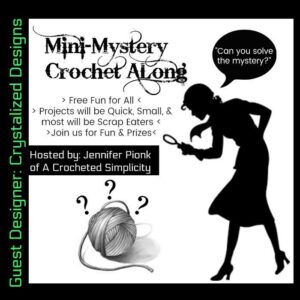 If you're new to A Crocheted Simplicity's Mini-Mystery Crochet Alongs, please read the Information Guide in this blog post HERE. You'll find all important MMCAL info and FAQ's!
This MMCAL will be posted in 2 segments. When it is time for the next segment to be posted, check back right here in this blog post as it will be updated with the next segment's instructions. This will keep all of our info in one spot!
MMCAL Schedule
Material List posted on the ACS blog Wednesday before the MMCAL begins
Segment 1: Friday, July 26, 2019 at 5am CST.
Segment 2: Saturday, July 27, 2019 at 5am CST.
MMCAL Closes & prizes will be chosen Monday, July 29, 2019 at 5am CST. Prizes drawn by noon CST.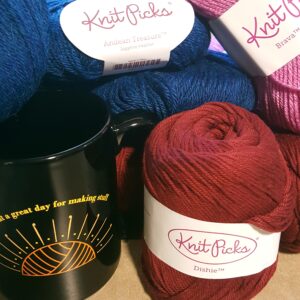 Though I used an acrylic yarn, any worsted yarn will work. You can use a variety of fibers without the project being effected. Cotton, acrylic, or another can be used. I happened to use left over Red Heart Soft for this project. This is great for stash-busting and Color B and C don't use much yarn. Perfect for those little left overs you have lying around! (Yarn pictured at right is not what I used in the project, just options.)
Materials
Yarn:

Worsted Weight Yarn (yardage has been rounded up)

Color A: 65 yards

Color B: 8 yards

Color C: 10 yards

Hook: H 5.00mm
Notions: Scissors, Yarn Needle, Measuring Tape
Abbreviations

Ch: Chain
Sc: Single Crochet
RS: Right Side
WS: Wrong Side
Slst(s): Slip Stitch(es)
St(s): Stitch(es)
Skill Level Easy
Gauge 15 sc x 16 rows = 4″
Notes Though segment 1 will only work with Color A, it's easier to work with Color B and C is yardage is precut and you could cut those colors now. If gauge isn't met, more or less yardage may be needed.
Segment 1
Back of case
Segment 2
Front of case
Closing
To be entered to win prizes, make sure to join us in the A Crocheted Simplicity Facebook Group or Ravelry group and post your photos on the MMCAL graphic.
Remember, don't forget to check the MMCAL Information Guide (click HERE) for frequently asked questions.