Here she is, the Affinity Cowl! I absolutely LOVE this design but this is just one of the directions that will be available in the pattern.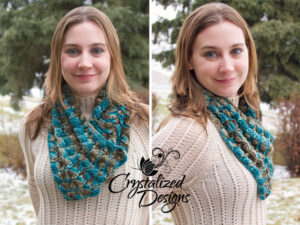 The Story Behind The Cowl
Yes, this cowl has a personal story. One of my dearest friends, Pam from Sincerely Pam, sent me a Yarn Baby LLC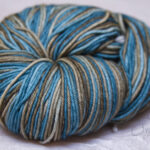 gift card in a Christmas Exchange. Right away this yarn caught my eye… I'm a sucker for blues and browns. As soon as this yarn was in my hands, I knew I wanted to create something perfect for variegated yarns… and just for me! Took me a few tries but I really think the stitch combination within this pattern works perfectly.. and it has what I love best… texture!!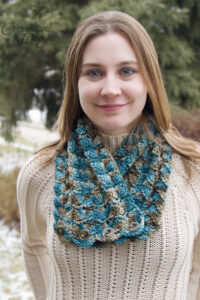 Like a friendship, I wanted this pattern to have many personalities. The scarf section offers 2 widths and 5 suggested lengths, though can easily be adjusted for personal preferences. The cowl part offers 2 widths and 2 suggested lengths. The pattern also includes 2 ways to make the cowl. The pictures shown use buttons but directions for a continuous cowl is also listed within the pattern. This pattern also includes stitch charts!
What's with the name? 'Affinity' means relationship, a natural liking, a similarity of characteristics. Pam and I are very much alike. When we first started chatting, when I tested her very first pattern, we clicked right away. That friendship grew over time and now, though we live in different countries, there's not many days that we don't 'chat' together.
Free Copy and Discount
Want a chance at winning 1 of 5 patterns being given away? Enter below but hurry!! Giveaway ends mid-day tomorrow right before the release! Get 30% off this pattern through Tuesday, Jan 6, 2015 using code FRIENDSHIP during checkout in Ravelry.
And it gets better!!
Yarn Baby LLC and I will be have something special for you yarn/pattern lovers a little later this week! Be sure to watch Yarn Baby LLC's Facebook Page and Crystalized Designs Facebook Page for more details!
Love this pattern too? Click here to purchase or show some love on Ravelry!