Back in 2013, I wrote a blog post for yarn swatches when I co-hosted a crafting site, Kiki Love Creations, with a dear friend of mine. Since then, we've split our blogs to help our own businesses but still are the best of friends! With that blog being a multitude of crafts, I wanted to bring one of my old posts (Easy Yarn Swatches) over since it's crochet related, to this blog.
There are many ways to make yarn color swatches, this is just the way I've been doing it for years… obviously since the first post is back in 2013…. and it works for me! I use this when searching for colors to coordinate, the few times when I'm a vendor in a craft fair I bring them to show color choices and brands, and any time I think I may receive a custom order. I find when people order items, they tend to be very vague on the colors. "I would like a blue and grey hat and cowl set for my daughter to match her jacket." Riiiiiight! Like there's only one shade of a color… and even if I did guess, I'm about 99.9% sure I'm not matching anything without seeing it. Am I the only one it happens to? Whether it's family, friends, or a paid customer you've never met, it's best to have the customer decide exactly what colors he or she would like.
Easy Yarn Color Swatches
What you need: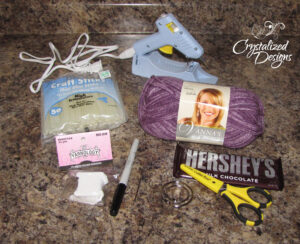 Glue Gun and extra glue
Plastic or cardboard bobbins (I used plastic as they're more durable)
Permanent marker
Yarn
yarn needle
Scissors
Metal Rings
Chocolate ~ as long as your not working with white yarn! Hehe… in my case, yarn and chocolate always seem to go together!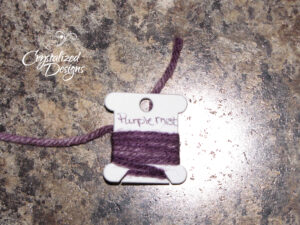 Step 1) Preheat your glue gun.
Step 2) Write the name of the color/brand of yarn on your bobbin. This can be done after but is easier to do before wrapping your yarn.
Step 3) Taking a small amount of yarn, loop it around one slit at the bottom of the bobbin. Wrap it 5-7 times. (More times for thinner yarn, less for thicker.) From the back of the bobbin, loop the other end around the opposite slit.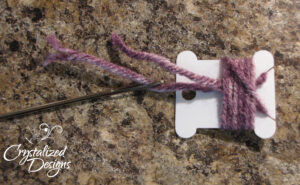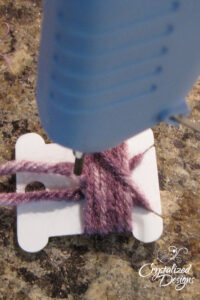 Step 4) Using your yarn needle, weave the yarn ends behind the wrapped yarn just as in picture shown to the left.
Step 5) With the glue gun ready, place a small amount between and around the ends as shown in picture to the right. This will secure it.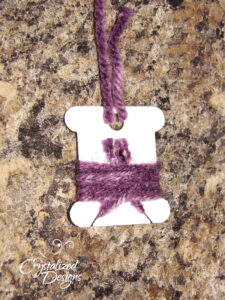 Step 6) Let the glue dry.
Step 7) Snip the ends to give more of a neat appearance.
Step 8) Insert bobbins on metal rings. I have mine according to brand and weight.
Keeping the colors somewhat together give a nice appearance as well!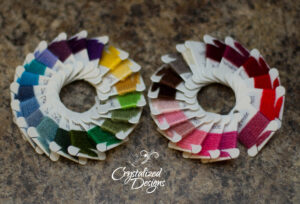 And there you have it! Just don't forget to eat your chocolate 🙂
Have a different way to make yarn color swatches? Feel free to post a link in the comments below! I'd love to see the way you do it!