Garments are one of my favorite things to design! I love when people comment on my designs,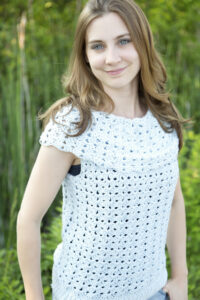 but it's even better when someone comments on a something I'm wearing! So I decided to design a tank top. This design was originally started for my last Design Wars Creme de la Creme Challenge. With it starting out to be a standard tank, I put it aside and tried for something a little more unique for the challenge. The Midsummer Pullover ended up being my project for the challenge, with a tee version for those who preferred a more standard top released shortly after. With the weather increasingly getting warmer, I picked the tank back up. I wanted something sleeveless, lacy but yet not completely revealing the layer under, and fashionable with a cowl neck option. I love the cowl neck tops but this design seemed to work better with the cowl neckline folded around the shoulders, giving the garment a completely different style!
Coming in fall, you'll see a garment with a real cowl neckline that I'm very excited about! Though it's started, I'll be putting it aside to work on finishing the 2 summery garments that I started last year, plus the 3 that I just started this year! Whew, that's a lot of hookin'…. but I'm loving it!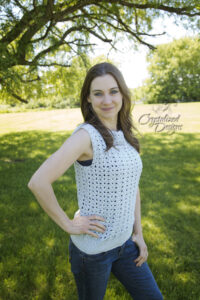 For those of you that don't know, I work at a school. I love spending the summer months at home with my children! This also allows me extra time for designing!
Back to the Summer Dreams Tank! I love this design! Though I love the plain tank better than with the cowl neckline, adding the neckline is perfect for office settings where sleeveless may not be permitted. This pattern comes in adult sizes from XS to 3X. All Crystalized Designs' patterns are written in English and use standard American English crochet terms. Crochet Chart, along with schematic, are listed within the pattern.
Love this pattern?
Add it to your Ravelry Favorites or Queue!