Working in food service, I know the importance of a clean kitchen. And what's something that is a magnet for bacteria? Dish rags, sponges, scrubbies… some say these items can contain more bacteria than your bathroom. Gross! Are you running to toss your scrubbies and sponges? Or throw your rags in the washer? But that's where the free Kitchen Scrub-Bean crochet pattern comes in!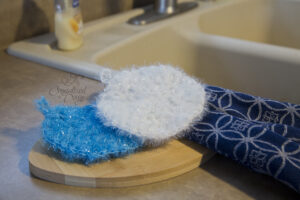 A Year of Scrubbies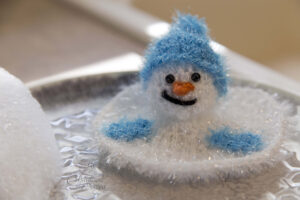 Last December's Melted Snowman Scrubby started my obsession! This year, there will be a new crocheted scrubby every month, forever free on the blog. This year-long project will give us a chance to create a new one every month, as well as replace our previous one, but also use up that scrubby yarn we have on hand. Because if you've made scrubbies before, you know that a little ball of scrubby yarn can make MANY projects! We'll be going through the year trying new brands but the end result will be the same every month. A fun little project perfect for your home or a gift! So get those hooks ready because scrubby #1 is ready!
Free January Scrubby Crochet Pattern
Did you get my little pun? The Kitchen Scrub-Bean… Scrub-bing. Yeah, I'm a goof! But this kitchen scrubby uses the bean stitch, making the name fit perfectly! Though it's recommended that these kitchen work horses be toss or at least disinfected weekly, some say you can go a month with scrubbies. They dry quicker than sponges and rags, and are easier to clean. Don't let that fool you though, they need to be disinfected regularly if not replaced. (Read more below for tips to clean.) And if you're really into keeping your kitchen hygienic, as well as creating these quick projects, try making scrubbies in different colors for different tasks. Just like those color coded cutting boards, you can do the exact same for these!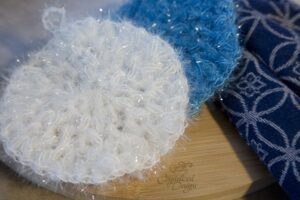 ⇢Pin it here!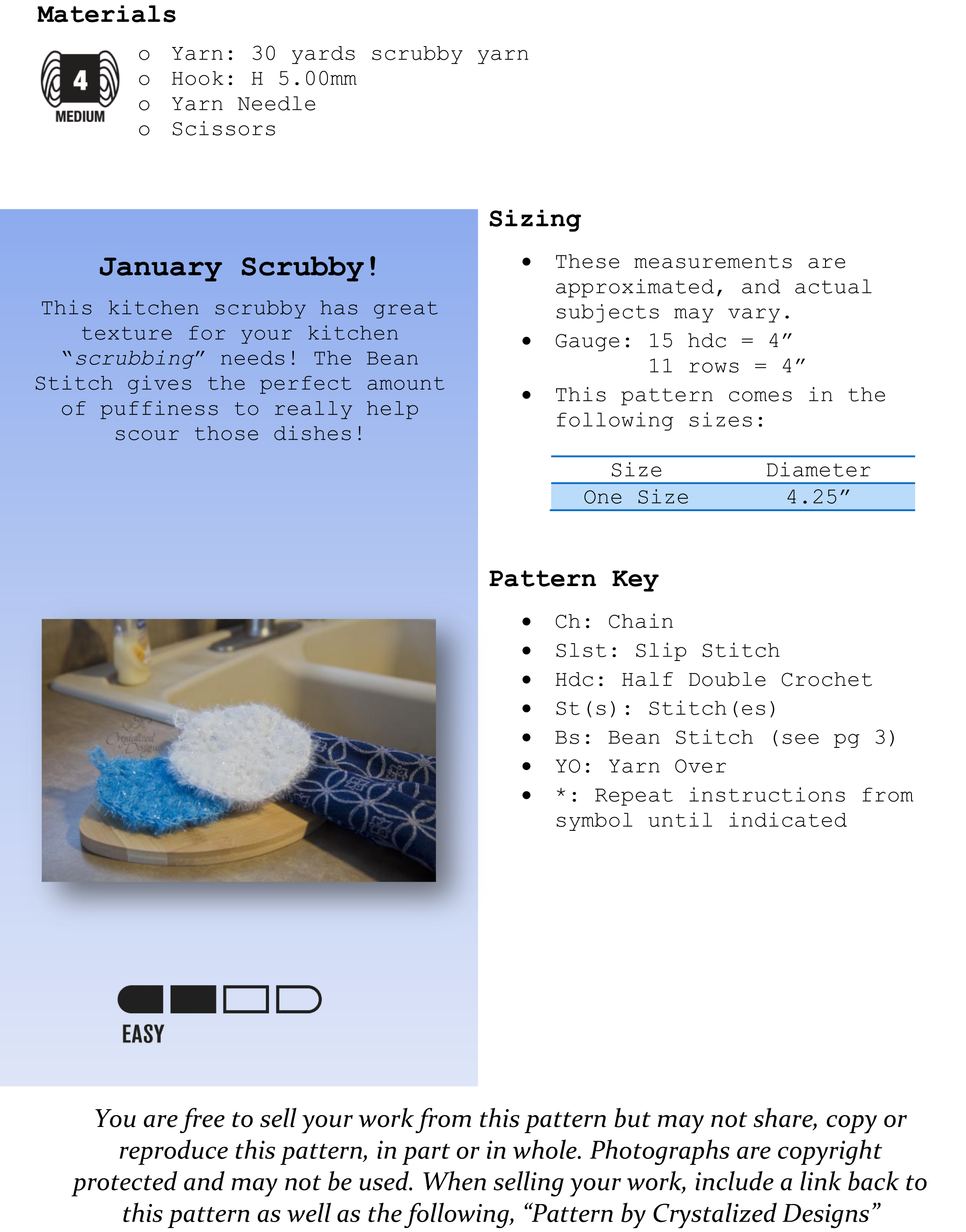 Keep Those Scrubbies Clean!
These are many ways to disinfect these kitchen cleaners. Though the fool-proof way of making sure no one gets sick is to always dispose of them and start fresh! If you're not ready to toss though, here are a few ways to disinfect:
Use the sanitize setting on that dishwasher!
Soak in vinegar for 5 minutes, then rinse thoroughly. Can also use a bleach solution using 3/4 cup bleach to 1 gallon of water.
Microwave a WET scrubby for 2 minutes, let cool completely. (Make sure there's no metal and scrubby is wet as it may cause fire.)
When in doubt, toss it out!
Things to keep in mind: What are you using them for? A scrubby that is just for cleaning a drinking glass will last longer and be less likely to hold bacteria than one that's used to clean off meat juices. This is also a great reason to use different ones for different tasks! Store your scrubby where it can completely dry. Hanging them allows them to not sit in water causing bacteria to multiply.
---
Thank you for visiting, I hope you enjoyed the pattern! Please leave a comment below and again, I would love to see any pictures! Find me on Facebook, in my Facebook Group, or Instagram! I'd love for you to share on Pinterest! I'd be happy to follow you back on any social media, just leave a link below! Want to see something from Crystalized Designs? I'm interested to hear! Feel free to email me with any suggestions. And as always, if you have any questions about a pattern, don't hesitate to contact me. Email is the best way to reach me. Email me at [email protected]